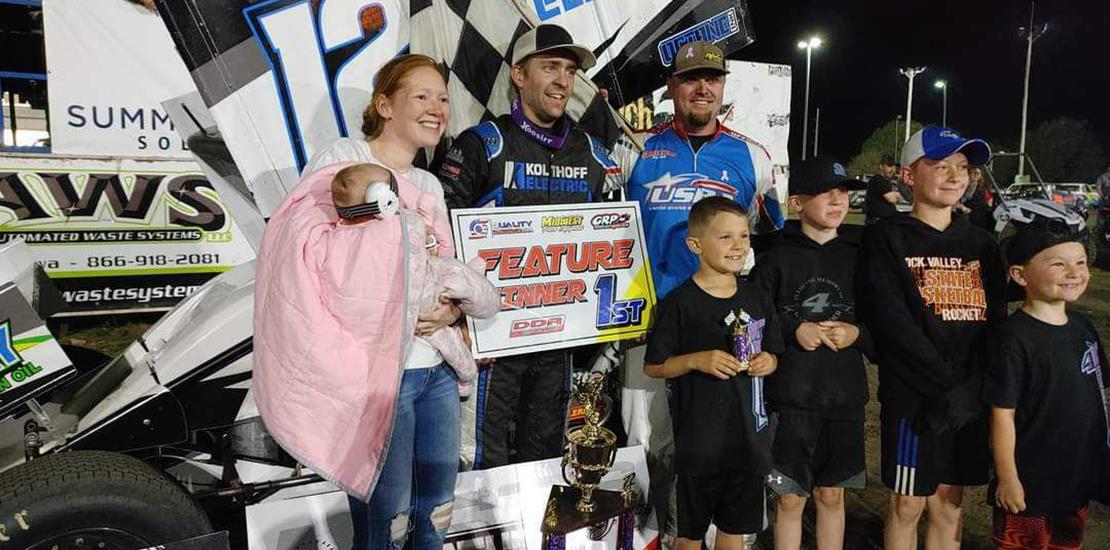 6/9/2022 -
Another Double Header weekend is on the horizon for the Quality Freight Rate Midwest Power Series and Seafoam MSTS presented by Property Solutions of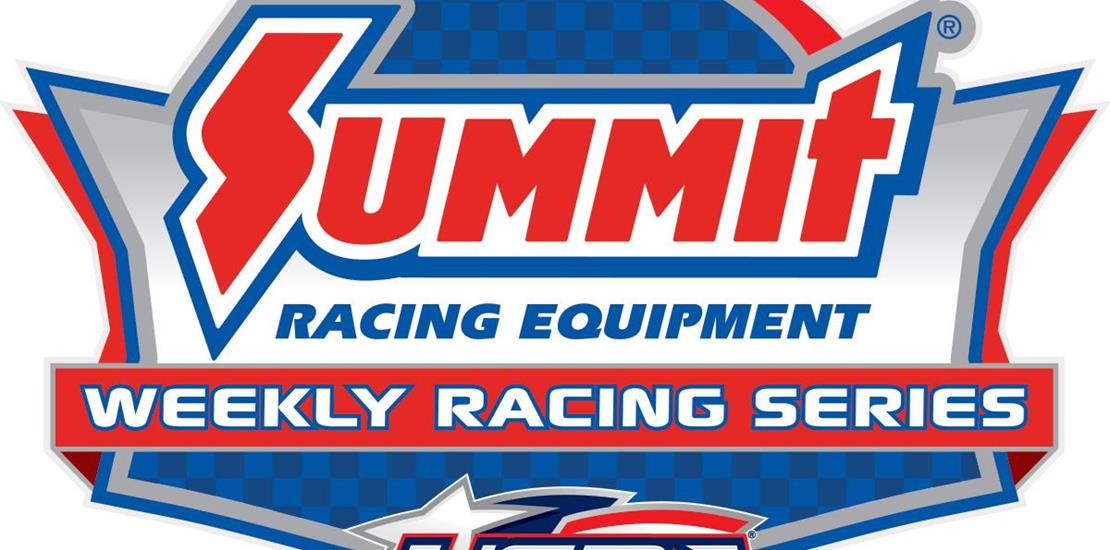 6/4/2022 -
Entry fee for Stock Cars and B-Mods is $100 at the first four shows and $150 at Mason City. Entry fee for Hobby Stocks is $50 at the first four shows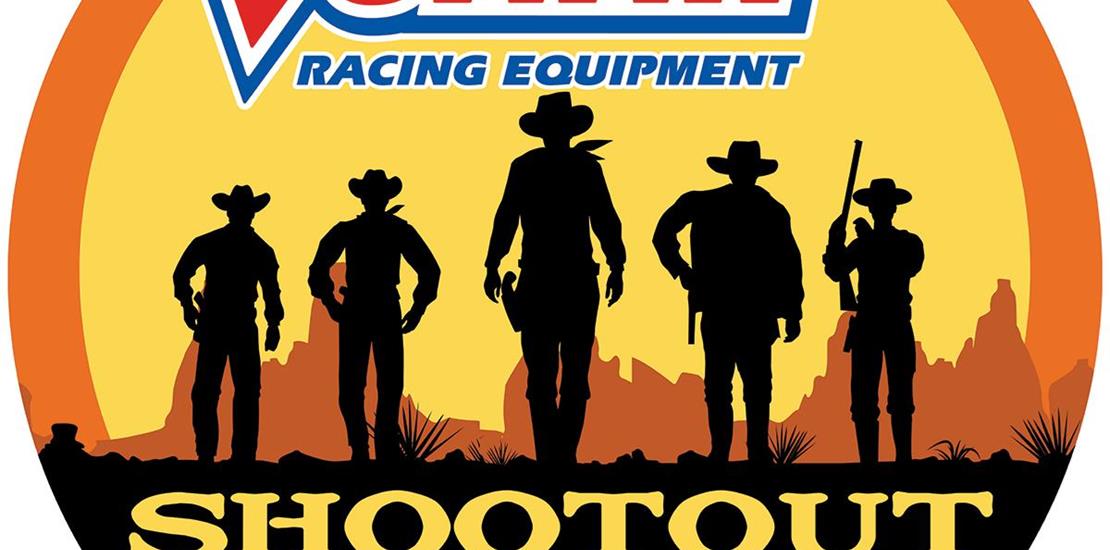 6/4/2022 -
SUMMIT SHOOTOUT After a one-year hiatus, the popular Summit Shootout returns in 2022 and will feature USRA track champions and Summit Shootout qualify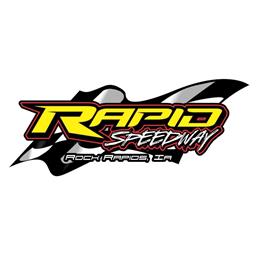 7/29/2022 - Rapid Speedway
Rock Rapids, IA
Hobby Stock King of the Hill
Tickets are $10 for adults, $5 for kids ages 7-14 and FREE for kids 6 & under! A pit pass will be $30 for everyone.
Schedule:
Pits Open: 5:00 PM
Grandstands Open: 5:30 PM
Driver Registration Cutoff: 6:15 PM
Pit Meeting: 6:20 PM
Hot Laps: 6:45 PM
Racing Starts: 7:30 PM
Drivers can call 712-472-2067 if they will be arriving after 6:15 to get put into the lineups. If you arrive after 6:15 and don't call ahead, you will be put at the back of a heat race.
New Century Press Sportsmans

13 entries

Sybesma Graphics USRA Hobby Stocks

20 entries

Papik Motors USRA B-Modifieds

13 entries

Precision Auto Body USRA Stock Cars

15 entries
Full Event Information on MyRacePass
New Century Press Sportsmans
Finish
Start
#
Competitor
Hometown
+/-
1
2
57W
Wyatt Steenhoven George, IA
George, IA
1
2
5
14
Brian Kroon Rock Rapids, IA
Rock Rapids, IA
3
3
8
57
Todd Steenhoven George, IA
George, IA
5
4
3
83
Neal Krull George, IA
George, IA
-1
5
4
17
Brandon Boeve Beaver Creek, MN
Beaver Creek, MN
-1
6
9
81CJ
Carson Vanden Top Rock Rapids, IA
Rock Rapids, IA
3
7
7
45K
Kaden Klaassen Little Rock, IA
Little Rock, IA
-
8
6
61
Beckett Brady Sioux Falls, SD
Sioux Falls, SD
-2
9
10
2
Leon Sneller Doon, IA
Doon, IA
1
10
11
2WS
Wyleigh Steenhoven George, IA
George, IA
1
11 DNF
1
42
Travis Dann Hartford, SD
Hartford, SD
-10
12 DNF
12
15
Kaden Kracht Steen, MN
Steen, MN
-
DNS
13
1
Alex Hemmingson Sioux Falls, SD
Sioux Falls, SD
-
Finish
Start
#
Competitor
Hometown
+/-
1
1
42
Travis Dann Hartford, SD
Hartford, SD
-
2
7
57W
Wyatt Steenhoven George, IA
George, IA
5
3
6
45K
Kaden Klaassen Little Rock, IA
Little Rock, IA
3
4
4
14
Brian Kroon Rock Rapids, IA
Rock Rapids, IA
-
5
3
81CJ
Carson Vanden Top Rock Rapids, IA
Rock Rapids, IA
-2
6
5
2WS
Wyleigh Steenhoven George, IA
George, IA
-1
7 DNF
2
1
Alex Hemmingson Sioux Falls, SD
Sioux Falls, SD
-5
All transfer
Finish
Start
#
Competitor
Hometown
+/-
1
1
83
Neal Krull George, IA
George, IA
-
2
2
17
Brandon Boeve Beaver Creek, MN
Beaver Creek, MN
-
3
6
61
Beckett Brady Sioux Falls, SD
Sioux Falls, SD
3
4
4
57
Todd Steenhoven George, IA
George, IA
-
5
5
2
Leon Sneller Doon, IA
Doon, IA
-
6 DNF
3
15
Kaden Kracht Steen, MN
Steen, MN
-3
All transfer
Sybesma Graphics USRA Hobby Stocks
Finish
Start
#
Competitor
Hometown
+/-
1
1
8
Levi Vander Weide Sioux Falls, SD
Sioux Falls, SD
-
2
4
6
Dustin Gulbrandson Sioux Falls, SD
Sioux Falls, SD
2
3
2
14K
Bryant Klaassen Adrian, MN
Adrian, MN
-1
4
9
22E
Eric Gaul Luverne, MN
Luverne, MN
5
5
6
18K
Landon Krohn Rowena, SD
Rowena, SD
1
6
5
2*
Dustin Schultz Marshall, MN
Marshall, MN
-1
7
17
78S
Spencer Sprock George, IA
George, IA
10
8
8
86
Tracy Halouska Worthing, SD
Worthing, SD
-
9
10
19
Brandon Jurrens Rock Rapids, IA
Rock Rapids, IA
1
10
14
82
Dylan Fitzpatrick Estherville, IA
Estherville, IA
4
11
15
81VT
Dylan Vanden Top George, IA
George, IA
4
12
7
61N
Nick Brady Sioux Falls, SD
Sioux Falls, SD
-5
13
16
10
Blake Schneekloth Brandon, SD
Brandon, SD
3
14
11
50M
Marni DeBoer Little Rock, IA
Little Rock, IA
-3
15
12
11T
Todd Uhl Sheldon, IA
Sheldon, IA
-3
16
13
19C
Cameron Jurrens Rock Rapids, IA
Rock Rapids, IA
-3
17
18
15
Katie Kracht Luverne, MN
Luverne, MN
1
18 DNF
20
97
Nicolas McVay Rock Rapids, IA
Rock Rapids, IA
2
19 DNF
3
81
Travis Vanden Top Rock Rapids, IA
Rock Rapids, IA
-16
DNS
19
88
Chad Kooiker Rock Valley, IA
Rock Valley, IA
-
Finish
Start
#
Competitor
Hometown
+/-
1
2
18K
Landon Krohn Rowena, SD
Rowena, SD
1
2
4
86
Tracy Halouska Worthing, SD
Worthing, SD
2
3
6
14K
Bryant Klaassen Adrian, MN
Adrian, MN
3
4
7
19
Brandon Jurrens Rock Rapids, IA
Rock Rapids, IA
3
5
5
19C
Cameron Jurrens Rock Rapids, IA
Rock Rapids, IA
-
6
1
97
Nicolas McVay Rock Rapids, IA
Rock Rapids, IA
-5
7 DNF
3
78S
Spencer Sprock George, IA
George, IA
-4
All transfer
Finish
Start
#
Competitor
Hometown
+/-
1
1
81
Travis Vanden Top Rock Rapids, IA
Rock Rapids, IA
-
2
3
6
Dustin Gulbrandson Sioux Falls, SD
Sioux Falls, SD
1
3
2
2*
Dustin Schultz Marshall, MN
Marshall, MN
-1
4
7
50M
Marni DeBoer Little Rock, IA
Little Rock, IA
3
5 DNF
4
81VT
Dylan Vanden Top George, IA
George, IA
-1
6 DNF
5
10
Blake Schneekloth Brandon, SD
Brandon, SD
-1
DNS
6
88
Chad Kooiker Rock Valley, IA
Rock Valley, IA
-
All transfer
Finish
Start
#
Competitor
Hometown
+/-
1
3
22E
Eric Gaul Luverne, MN
Luverne, MN
2
2
1
8
Levi Vander Weide Sioux Falls, SD
Sioux Falls, SD
-1
3
6
61N
Nick Brady Sioux Falls, SD
Sioux Falls, SD
3
4
5
11T
Todd Uhl Sheldon, IA
Sheldon, IA
1
5 DNF
2
82
Dylan Fitzpatrick Estherville, IA
Estherville, IA
-3
6 DNF
4
15
Katie Kracht Luverne, MN
Luverne, MN
-2
All transfer
Papik Motors USRA B-Modifieds
Finish
Start
#
Competitor
Hometown
+/-
1
8
20
Derek Van Veldhuizen Rock Rapids, IA
Rock Rapids, IA
7
2
13
87
Miah Christensen Sioux Falls, SD
Sioux Falls, SD
11
3
1
6
Dustin Kruse Baltic, SD
Baltic, SD
-2
4
5
22T
Tyler Tesch Lennox, SD
Lennox, SD
1
5
7
21K
Dave Kennedy Tea, SD
Tea, SD
2
6
4
66R
Randy Van Veldhuizen Rock Rapids, IA
Rock Rapids, IA
-2
7
10
20S
Jason Stegemann Matlock, IA
Matlock, IA
3
8 DNF
12
A13X
Alex Wiertzema Little Rock, IA
Little Rock, IA
4
9 DNF
6
06W
Ryan Walker Luverne, MN
Luverne, MN
-3
10 DNF
2
4
Jackson Mulder Doon, IA
Doon, IA
-8
11 DNF
3
21T
Trevor Tesch Lennox, SD
Lennox, SD
-8
12 DNF
9
2R
Jory Montis Sioux Falls, SD
Sioux Falls, SD
-3
13 DNF
11
52
Trevor Kracht Luverne, MN
Luverne, MN
-2
Finish
Start
#
Competitor
Hometown
+/-
1
4
4
Jackson Mulder Doon, IA
Doon, IA
3
2
2
66R
Randy Van Veldhuizen Rock Rapids, IA
Rock Rapids, IA
-
3
6
06W
Ryan Walker Luverne, MN
Luverne, MN
3
4
7
21K
Dave Kennedy Tea, SD
Tea, SD
3
5
3
2R
Jory Montis Sioux Falls, SD
Sioux Falls, SD
-2
6 DNF
5
52
Trevor Kracht Luverne, MN
Luverne, MN
-1
7 DNF
1
87
Miah Christensen Sioux Falls, SD
Sioux Falls, SD
-6
All transfer
Finish
Start
#
Competitor
Hometown
+/-
1
3
6
Dustin Kruse Baltic, SD
Baltic, SD
2
2
4
20
Derek Van Veldhuizen Rock Rapids, IA
Rock Rapids, IA
2
3
1
22T
Tyler Tesch Lennox, SD
Lennox, SD
-2
4
5
21T
Trevor Tesch Lennox, SD
Lennox, SD
1
5
6
20S
Jason Stegemann Matlock, IA
Matlock, IA
1
6 DNF
2
A13X
Alex Wiertzema Little Rock, IA
Little Rock, IA
-4
All transfer
Precision Auto Body USRA Stock Cars
Finish
Start
#
Competitor
Hometown
+/-
1
4
46
Colton Arends Luverne, MN
Luverne, MN
3
2
2
11K
Darrin Korthals Rock Rapids, IA
Rock Rapids, IA
-
3
5
117L
Chad Lonneman Adrian, MN
Adrian, MN
2
4
1
32X
Rich Gregoire Russell, MN
Russell, MN
-3
5
10
69
Cadyn Wessels Luverne, MN
Luverne, MN
5
6
9
40
Scott Overgaard Luverne, MN
Luverne, MN
3
7
8
4
Aaron Stettnichs Rock Rapids, IA
Rock Rapids, IA
1
8
12
81
Tanner Vanden Top Rock Rapids, IA
Rock Rapids, IA
4
9
15
36
Glenn Wynia Sioux Center, IA
Sioux Center, IA
6
10 BF
11
5X
Kevin Kremin Kenneth, MN
Kenneth, MN
1
11 DNF
7
4D
Cory Kelderman Hills, MN
Hills, MN
-4
12 DNF
13
12C
Cody Wangerin Hawarden, IA
Hawarden, IA
1
13 DNF
3
43K
Josh Kelderman Sioux Center, IA
Sioux Center, IA
-10
14 DNF
6
82
Dylan Fitzpatrick Estherville, IA
Estherville, IA
-8
15 DNF
14
0TG*
Brad TeGrotenhuis Orange City, IA
Orange City, IA
-1
Finish
Start
#
Competitor
Hometown
+/-
1
2
43K
Josh Kelderman Sioux Center, IA
Sioux Center, IA
1
2
6
117L
Chad Lonneman Adrian, MN
Adrian, MN
4
3
4
4
Aaron Stettnichs Rock Rapids, IA
Rock Rapids, IA
1
4
5
4D
Cory Kelderman Hills, MN
Hills, MN
1
5
7
40
Scott Overgaard Luverne, MN
Luverne, MN
2
6
8
5X
Kevin Kremin Kenneth, MN
Kenneth, MN
2
7
1
12C
Cody Wangerin Hawarden, IA
Hawarden, IA
-6
8 DNF
3
36
Glenn Wynia Sioux Center, IA
Sioux Center, IA
-5
All transfer
Finish
Start
#
Competitor
Hometown
+/-
1
2
32X
Rich Gregoire Russell, MN
Russell, MN
1
2
4
82
Dylan Fitzpatrick Estherville, IA
Estherville, IA
2
3
5
46
Colton Arends Luverne, MN
Luverne, MN
2
4
6
11K
Darrin Korthals Rock Rapids, IA
Rock Rapids, IA
2
5
7
69
Cadyn Wessels Luverne, MN
Luverne, MN
2
6
1
81
Tanner Vanden Top Rock Rapids, IA
Rock Rapids, IA
-5
7
3
0TG*
Brad TeGrotenhuis Orange City, IA
Orange City, IA
-4
All transfer