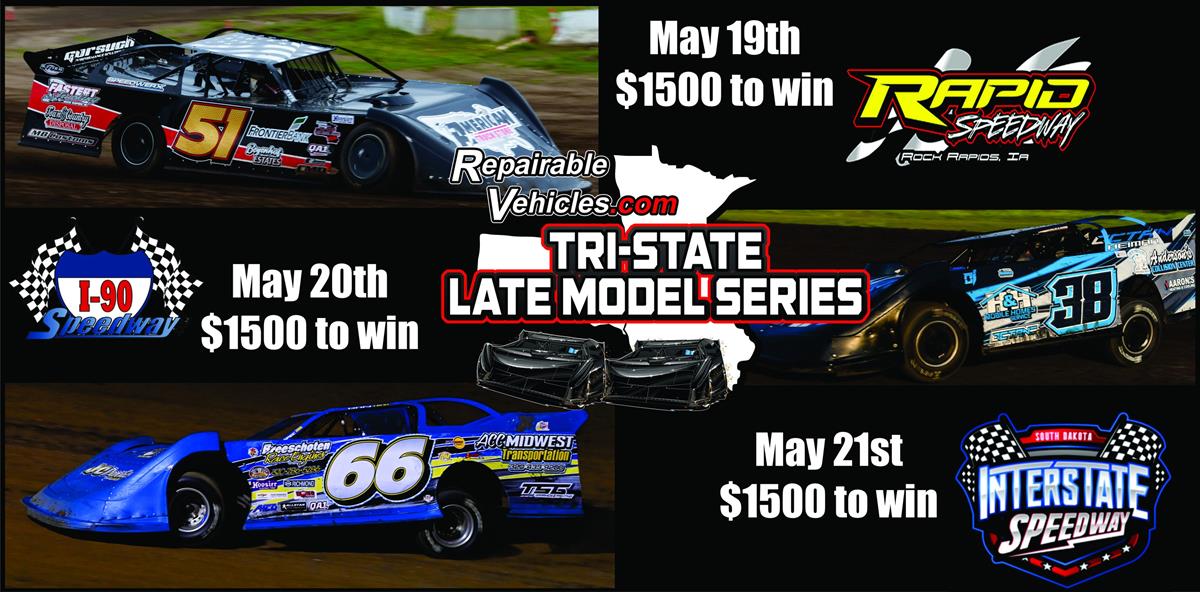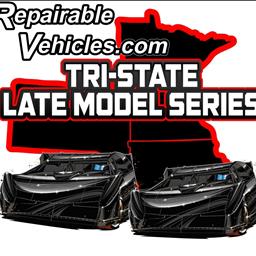 5/18/2023
Tri-State Late Models
---
RepairableVehicles.com TSLM set to kick off 2023 this weekend
Rock Rapids, IA (May 18, 2023) - The RepairableVehicles.com Tri-State Late Model Series is ready to kick off its 6th season of racing in a big way this coming weekend. The series is set to embark on a triple header ensuring late model fans in the area will have no shortage of action to enjoy.
The series full schedule has been released for some time, and features 18 remaining nights of action across 10 different race tracks in South Dakota, Iowa, and Minnesota.
The first show of the year in Huron, SD we lost to rain last week, but forecasts look absolutely picture perfect to kick the season off in a big way. Night number 1 of action will take place Friday, May 19 at the Rapid Speedway in Rock Rapids, IA. It will be there series' 17th all time visit to the Lyon County Fairgrounds track, but 1st under the new leadership of track promoter Darrin Korthals. In the previous 16 trips, no driver has more wins than home-town favorite Nate Beyenhof with 4. Older brother Nick Beyenhof has three victories to his name, and Tad Pospisil and Chad Olsen each have a pair of wins in Rocky. Last season featured 2 races in Rock Rapids, with Nate Beyenhof and eventual series champion Trevor Anderson picking up wins. Anderson's was potentially the most exciting of the year, when he was forced to the tail early in the race, and went worst-to-first in dramatic fashion to spark a huge victory lane celebration.
Next up on the weekend the series will travel west to I-90 Speedway in Hartford, SD on Saturday May 20. The action at Hartford is always exciting and unpredictable, and that shows in the winners list. 6 trips to I-90 Speedway have garnered an incredible 6 different winners. 2022 was the first time in 4 years the series had not raced at I-90 Speedway, and we all are very excited to get back for what will be the only trip to the 3/8ths mile oval this year.
Ending the weekend on Sunday, May 21st will be one of the more exciting race tracks on the schedule in 2023. Newly dubbed Interstate Speedway under the new ownership of Chase and Shelby Alves, the tight quarter-mile highbanked bullring just North of Sioux City, IA has been the setting for some of the most close-quarter exciting racing in the series history. 9 different trips to Interstate Speedway has seen 8 different winners take the checkered flag since 2018. Last Season Corey Zeitner and Trevor Anderson picked up wins. Interstate also has the distinction of being the site of the very first Tri-State Late Model event back in 2018. On April 29th, 2018 Jordan Heiman became the very first Tri-State late Model feature winner.
The 2023 season kicks off tomorrow, and will feature the largest rookie class in series history, with no less than 6 brand new full-timers to late model racing. We hope you join us in Rock Rapids, Hartford, and Jefferson this weekend to help us kick off the year in a big way.
The RepairableVehicles.com Tri-State Late Model Series is brought to
you by one of the leading resellers of repairable vehicles in North
America. RepairableVehicles.com is a division of Interstate Auto Center
located right here locally in Harrisburg, South Dakota for over 30 years.
Get the vehicle you want at a fraction of the price and you repair it to
like new. See the inventory right now on your device at Repairable Vehicles.com
---
Article Credit: Austin Lloyd
Submitted By: Austin Lloyd
Back to News