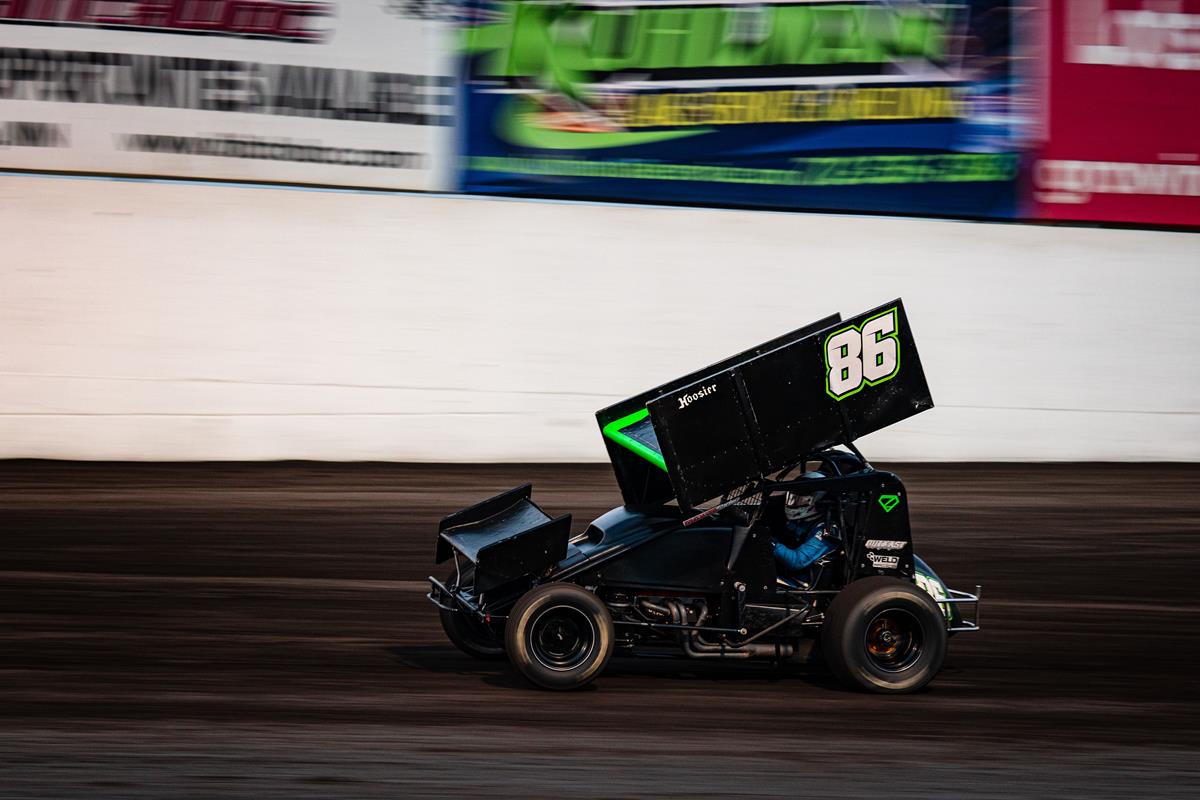 9/21/2021
Inside Line Promotions
---
Amdahl Posts Top-10 Finish During Rapid Speedway Nationals
(Photo by Tylan Porath Photography)
Inside Line Promotions – ROCK RAPIDS, Iowa (Sept. 21, 2021) – Elliot Amdahl closed his 360ci sprint car season with a sixth-place finish last Saturday during the Rapid Speedway Nationals hosted by Rapid Speedway.
"I was pretty happy with a sixth-place finish," he said. "That track has been kind of tough for me. I think I was sixth there two or three times this year. That place is kind of my kryptonite."
The race was also the final points race for the Midwest Touring Sprint Series and Amdahl settled for fourth in the championship standings.
"We were hoping to finish third, but we fell just a bit short," he said. "But it was still a pretty good year for us, considering everything."
Saturday evening began on a positive note for Amdahl and car owner Steve Ziebarth before actual competition began.
"We were second quick in hot laps, which was good for us because we've been struggling to find speed there in the past," he said. "It was nice to be quick right off the bat."
Amdahl drew the pole starting position for his heat race.
"I got to racing with the guy who started on the outside of me for just a second and that allowed the guy who started fourth to get by me," he said. "The track was just one lane around the top. We stayed in second and made the feature redraw and drew the pole for the feature.
"The track slicked off a lot more in the feature than in previous races there. We knew it would be just a matter of time before the rubber settled in.
"We got a good start, but I made a mistake and Terry (McCarl) got around me. I stayed in third a while. We struggled to find forward bite early in the race because we didn't want to tighten the car too much with the rubber coming in later. I fell back to sixth and then the rubber came in. Then we were fast, but the track was one lane by then so it was too late to do much."
The sixth-place outing was Amdahl's 17th top 10 of the season.
He will wrap up the racing season in 410ci sprint car competition this Sunday at Huset's Speedway in Brandon, S.D., during the Championship Weekend with the Buffalo Wild Wings Northern Outlaw Sprint Association.
"We haven't been able to race the 410 very much this year so I'm excited to get some more seat time," he said. "We struggled getting our motor to run last time so we're putting the car on a wheel dyno this week. We hope to go into Sunday with a full head of steam."
QUICK RESULTS –
Sept. 18 – Rapid Speedway in Rock Rapids, Iowa – Heat race: 2 (1); Feature: 6 (1).
SEASON STATS –
33 races, 0 wins, 6 top fives, 17 top 10s, 21 top 15s, 24 top 20s
UP NEXT –
Sunday at Huset's Speedway in Brandon, S.D., for Championship Weekend with the Buffalo Wild Wings Northern Outlaw Sprint Association
MEDIA LINKS –
Twitter: https://twitter.com/EARracing
Facebook: https://www.facebook.com/elliotamdahlracing
SPONSOR SPOTLIGHT – Dells Auto
Located just north of Sioux Falls in Dell Rapids, Iowa, Dells Auto offers a wide range of used cars, trucks, SUVs, boats, golf carts, trailers and more. With over a decade of experience, Dells Auto has learned what it takes to create repeat buyers and spread honest deals throughout the area. For more information, visit https://www.dellsauto.com/.
"Bob Zwart of Dells Auto has been a sponsor of ours for about seven years now," Amdahl said. "He's really stepped up his support the last couple of years to help us with our 360 and 410 programs. He's a great friend and an awesome sponsor."
Amdahl would also like to thank BHK Trucking, REA Hybrids, Amdahl Beef, Cressman Sanitation, Sea Foam, B&B RV Storage & Service, Hughes Racing, Last Deck, Rockstar, Flandreau Vet Clinic and 212 The Boiling Point for their continued support.
INSIDE LINE PROMOTIONS –
Inside Line Promotions specializes in affordable public relations and media management for motor sports drivers, teams, sponsors, tracks, series, events, organizations and manufacturers. ILP Founder Shawn Miller leverages professional journalism with new media technologies and social networking to improve your exposure and the return on investment for your sponsors.
To meet the media relations needs of your program by joining Team ILP, contact Shawn at 541-510-3663 or Shawn@InsideLinePromotions.com. For more information on Inside Line Promotions, visit http://www.InsideLinePromotions.com.
---
Article Credit: Inside Line Promotions
Submitted By: Shawn Miller
Back to News