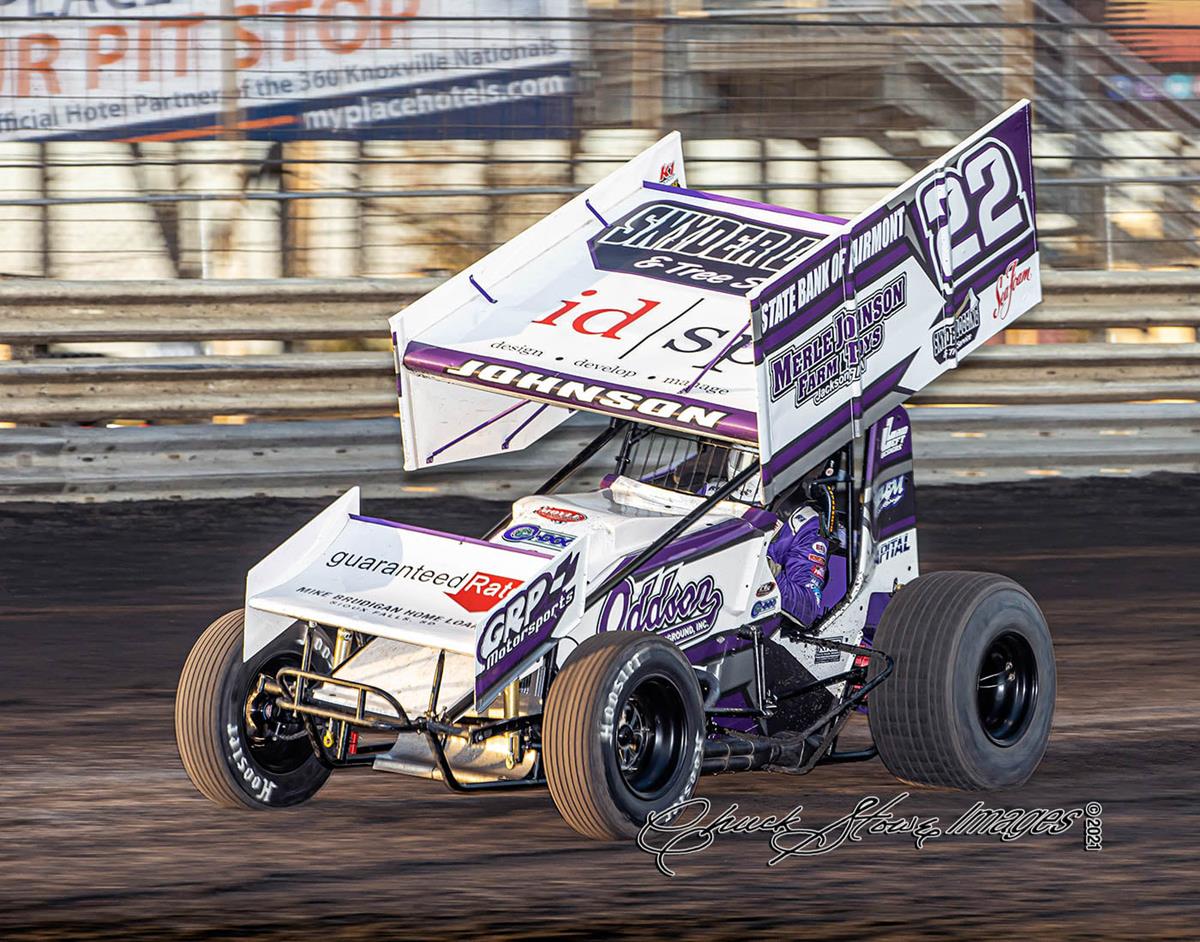 7/27/2021
Inside Line Promotions
---
Kaleb Johnson Posts Podium Finish With MSTS Series at Rapid Speedway
(Photo by Chuck Stowe Images)
Inside Line Promotions – KNOXVILLE, Iowa (July 27, 2021) – Kaleb Johnson raced to a third-place finish a week ago Tuesday during the Midwest Sprint Touring Series feature, which was part of the special Lyon County Fair race at Rapid Speedway.
It marked his second podium in as many starts this year at the track in Rock Rapids, Iowa.
"It was another good night for us there," said Johnson, who was runner up in May. "We usually seem to run well there."
Johnson began the night by grabbing the lead early in his heat race and going on to the win. The victory qualified him for the feature redraw. He drew the fourth starting position with a pair of stout competitors starting to his inside.
"I figured it would be tough to beat Justin (Henderson) and Jack (Dover) with them starting in the first two rows on the inside," he said. "Justin has been hot everywhere lately and it seems like Jack usually finishes first or second whenever we're at Rocky."
Henderson and Dover quickly pulled away from the field when the race started while Johnson found himself in fourth.
"I ran fourth for a few laps before getting by Nate Eakin for third," he said. "Then we had a couple of restarts that gave me a chance to pass them, but they were just too good. I was later able to close on them some in lapped traffic, but it was the same thing. They were really in a league of their own. You always want to win, but finishing third to those two isn't the worst."
Johnson and crew headed to Knoxville Raceway on Saturday without their regular Knoxville Raceway sprint car in the trailer.
"We have one car we race only at Knoxville," he said. "But we hurt the motor in that one the week before and it's being repaired so we brought our other car. It's the same make of car, but it's four years older and the motor isn't as strong."
Johnson's evening began better than anticipated.
"We qualified eighth (out of 31 drivers), which was better than I expected with that car," he said. "Then we went from fourth to third in the heat race. We probably could've finished second if I hadn't shown my nose to John Carney so early on the final lap."
Johnson rolled off eighth on the starting grid in the A Main.
"I didn't get a very good start and dropped back to around 12th or 13th after a few laps," he said. "I felt the most uncomfortable in the car than I've ever felt at Knoxville. With about four laps to go, I went into turn three and hit the cushion. The car snapped free and I couldn't save it. I restarted last and finished 17th. It wasn't a very good night. I guess the thing we learned was that different cars don't like different things."
Johnson will move on to MSTS and Midwest Power Series competition at Jackson Motorplex in Jackson, Minn., this Friday before returning to Knoxville Raceway on Saturday.
QUICK RESULTS –
July 20 – Rapid Speedway in Rock Rapids, Iowa – Heat race: 1 (2); Feature: 3 (4).
July 24 – Knoxville Raceway in Knoxville, Iowa – Qualifying: 8; Heat race: 3 (4); Feature: 17 (8).
SEASON STATS –
23 races, 0 wins, 5 top fives, 11 top 10s, 13 top 15s, 18 top 20s
UP NEXT –
Friday at Jackson Motorplex in Jackson, Minn., with the Midwest Sprint Touring Series and Midwest Power Series and Saturday at Knoxville Raceway in Knoxville, Iowa
MEDIA LINKS –
Website: http://www.kalebjohnsonracing.com/
Twitter: https://twitter.com/Kaleb___Johnson
Facebook: https://www.facebook.com/KalebJohnsonRacing22
SPONSOR SPOTLIGHT – Oddson Underground
Oddson Underground, Inc., of Windom, Minn., is a family-owned business established in 1998. The business is an underground utility contractor that handles the installation of fiber optic, water, sewer, power, geothermal and other underground services. For more information, visit http://www.oddsonunderground.com.
"We're excited to have Oddson Underground return to our team this year," Johnson said. "They came on board with us in a pretty big way a couple of years ago and we're looking forward to continuing our partnership with them."
Johnson would also like to thank Merle Johnson Farm Toys, Oddson Underground, GRP Motorsports, Innovative Design/Sletten Properties, Sea Foam, Snyder Tree Service, Guaranteed Rate-Mike Brudigan Home Loans, The Ron Weber Team, State Bank of Fairmont, Big Al's Diecast, Dave's Lawn Care & Landscaping, JF Capital, Last Deck, Hepfner Racing Products, Schaeffer's Oil and TL Racing for their continued support.
INSIDE LINE PROMOTIONS –
Inside Line Promotions specializes in affordable public relations and media management for motor sports drivers, teams, sponsors, tracks, series, events, organizations and manufacturers. ILP Founder Shawn Miller leverages professional journalism with new media technologies and social networking to improve your exposure and the return on investment for your sponsors.
To meet the media relations needs of your program by joining Team ILP, contact Shawn at 541-510-3663 or Shawn@InsideLinePromotions.com. For more information on Inside Line Promotions, visit http://www.InsideLinePromotions.com.
---
Article Credit: Inside Line Promotions
Submitted By: Shawn Miller
Back to News