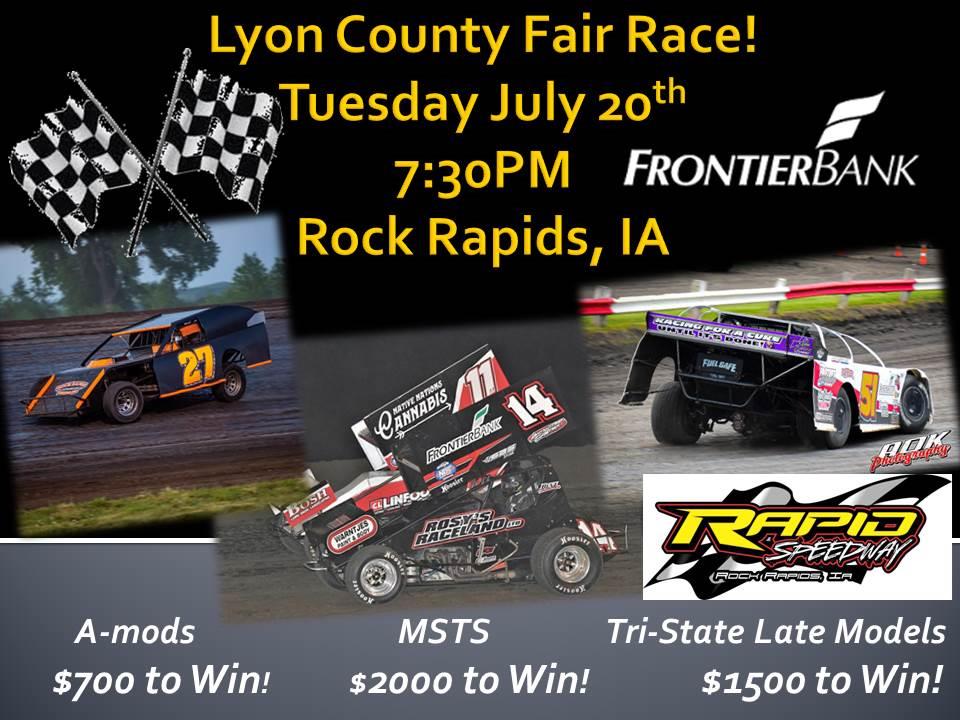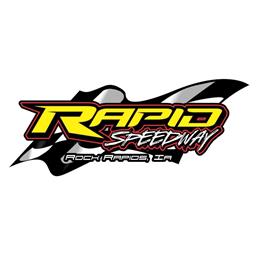 ---
Lyon County Fair Races!
Tonight we will have our annual Lyon County Fair Races! We will have A-Mods ($700 to win), RepairableVehicles.com Tri-State Late Models ($1500 to win) & Property Solutions of America MSTS 360 Sprints ($2000 to win)!
Come early and enjoy the Lyon County Fair! The Lyon County Pork Producers meal will be served from 5:30-7:00 or you can get dinner from one the other food booths on the fairgrounds. Other events going on before the races are the Kid's Pedal Pull at 5:00 in the Entertainment building, Youth garden tour at 5:15 & ISU garden tour at 6:00.
Parking will be very limited at the fairgrounds and it may be easier to park on the streets surrounding the fairgrounds and walk down.
DRIVERS: You will not be able to enter the fairgrounds from the main entrance! Please take 2nd Ave E into the fairgrounds and go around the back way to the pits. We will have a map on our Facebook & Twitter pages today as well with directions.
Tickets are $20 for adults, $5 for kids ages 7-14 and FREE for kids 6 & under! A pit pass will be $30 for everyone.
Schedule:
Pits Open: 4:30 PM
Grandstands Open: 5:30 PM
Driver Registration Cutoff: 6:15 PM
Pit Meeting: 6:20 PM
Hot Laps: 6:45 PM
Racing Starts: 7:30 PM
Drivers can call 712-472-2067 if they will be arriving after 6:15 to get put into the lineups. If you arrive after 6:15 and don't call ahead, you will be put at the back of a heat race.
---
Article Credit: Geoff Kruse
Submitted By: Geoff Kruse
Back to News